The evolution of our company towards a functional and modern training stable is in full swing. This year we scaled down the rearing to be able to convert the "old cow stable", where young horses were housed in the last 10 years, to an inside arena with 10 boxes, reception room and apartment. An inside arena will give us the opportunity to ensure continuity in the training. In the reception room you can enjoy watching the horses when drinking a cup of coffee/tea.
We look forward to the final result: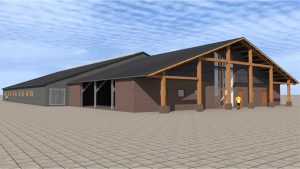 Keep our website and Facebook page to follow the developments.