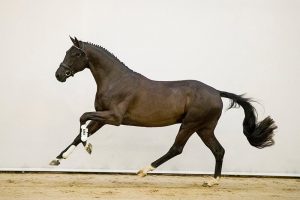 Last week we were with 4 stallions in Ermelo for the first round viewing of the stallion inspection. Khan S, a descendant of Negro x talent (Pref Keur presents Father Jazz) x Koriana (presents Pref Sport. Dr. Father Rubinstein), may go on to second round viewing! This very tough Negro showed only a small piece of his qualities on the first round viewing but still sufficient to convince the jury to send him to the second round. Khan S, bred by the C. Spijkers-vd Voorst, is a horse from a top line that slowly became more confident during the test. A wonderful character with great talent!
The other three stallions all showed three good paces with enough stride length and suppleness, but should show more power and carriage in the trot and canter to go to Den Bosch. These stallions will certainly make it as a sport horse in the future:
Kind regards (Jazz x contender, owners Theo and Miny van der Meer, Breeder W. de Korte)
Kane (Charmer x Lord Sinclair, owner family van Rijswijk)
Kingston (Everdale x Jazz, owner AniCare Sport horses, Breeder C. Spijkers – VD)
All stallions were top prepared by Annemiek de Koning!
We wish Bart and Christel Spijkers a lot of success in Den Bosch.