Lennox W (Grand Galaxy Win T x Rousseau) showed suppleness, good body use and powerful hind leg use during the second round viewing on Friday. He was invited to the third round viewing. From a group of 4 sons of Grand Galaxy Win T and 2 of Gotcha-Utopia, the inspection committee invited Lennox W to the champions test on Saturday. He was also invited to the performance test in Ermelo. He was described as a functional mover and handy stallion who also has a very interesting pedigree. Lennox W is a son of the full sister of Blue Hors Zack, who is successful in the Grand Prix dressage.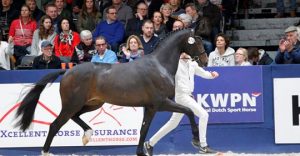 During the champions test on Saturday, Lennox W did his utmost best to convince the inspection committe of his quality. In a group of 7 fantastic stallions he ended as the runner up. "The stallion himself has a lot of technique in trot and a lot of flexibility and in the canter the easy flying changes were striking." It's really stunning that the breeders/owners gave us their confidence to train this special horse, especially with this result. Lennox W is a fantastic horse to work with.
Our congratulations to Bas and Trudy Wilschut with this fantastic result. We wish you a bright future with Lennox W!